Welcome to the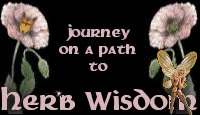 "Herb Wisdom"
Web Ring
Homepage
"Herb Wisdom", (formerly known as "Herbs of Shadow"), is a web ring created for those people who love Herbs, and who love, use or want to know about, their vast array of applications. "Let our medicine be our food, and our food be our medicine" a wise man once said. Thus, "Herb Wisdom" is dedicated to all applications of herbs and other plants. This Ring is for culinary, medicinal, herbal therapies, herbal folklore, aromatic, remedial and magical plant pages ONLY; however, pages containing quality info on other natural substances and/or vitamins may be accepted at my discretion.
If you would like to join the "Herb Wisdom Web Ring", please fill in the form below and then click "Add your site to the Herb Wisdom Web Ring Queue".

Site Title:

Site URL:

Site Owner:

EMail Address:

Year of Birth:


(ie: 1999)

By law, we cannot collect personal information on anyone under the age of 13. Because of this we do not allow anyone 13 or under to Join a RingSurf Net Ring, or become a Ringmaster, and thus we are forced to ask you to specify your birthdate. If you are under the age of 13, you may not become a member of RingSurf. You may use the

Ring Directory and use any existing ring, you just may not start a new ring, or add your website to an existing ring. See our privacy statement if you have any questions on how we handle your personal data.

Password:

Keywords:

Site Description:


If the above link does not seem to work or if you are not sure it did, use the link below...

After submitting your site, please stop by
Herb Wisdom

May you find everything that you are searching for, and much more...