PURCHASE "HERB WISDOM" NOW
Click on the Paypal "BUY NOW" button to purchase the Herb Wisdom CD Rom.
NOW AVAILABLE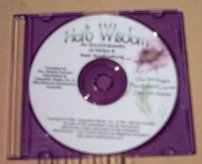 HERB WISDOM CD-ROM
All about herbs and their vast array of applications. Certified Herbologist gives advice on request. ... Journey to Herb Wisdom with this wonderful CD ROM companion. It contains a myriad of information and data which includes the following:

Courses to include:

Introduction to Herbalism
Intermediate Herbs
Aromatherapy for beginners
Flower Essences
Over 400 Images
Other plant related information and data bases
Over 140 Articles and Plant profiles

This CD ROM is a very informative tool for anyone, and is not located anywhere else in Australia. It used to be available in the US, but now only SOLD here in Australia. This CD ROM is suited to most windows/explorer applications, and is very user friendly, even for the beginners in computer skills. Don't miss your chance of this opportunity.

A truly wonderful source of information indeed.